Warehousing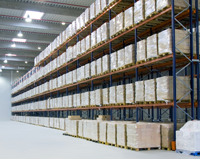 You have a job or contract offer requiring moving to other location for a certain period of time.
What are you going to do with all your belongings? You might not need all of them. What happen to the rest? You still need them when you return and don't want to dispose them off.
With our 20,000 square feet fully insured, Canada Customs bonded and equipped with temperature control and security systems warehouse facility, we can provide a safe & secure temporary, long and short term storage for your belongings and household items. Our warehouse is approved by the Department of National Defence (Canada).
If required, we can facilitate any of the following:
• Minimum or full packing services on site by our team of
experienced and professionally trained packers
• Supply of recycled packing materials if you want to do your own
packing
• Crating for your artworks, glass table top, etc.
• Hanging wardrobe boxes for your delicate dress and clothing
• Mattress bags & mirror cartons
• Label or mark all boxes and packages
• Inventory list for your easy sorting and unpacking
• Transfer items into storage container(s) for storage
• Delivery to your new location after storage domestic or overseas