To & From
USA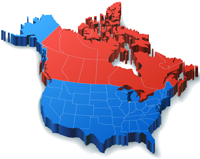 Moving To & From the USA
For relocation to and from USA, you've come to the right Mover.
Our experienced team of drivers, packers and helpers will complete your relocation as smoothly as possible. Our network of long distance cross-border truckers jointly with Atlas Van Lines group of companies covers most of the States, cities, towns or villages within USA. Our operation staff will assist in preparing and completing the cross-border US or Canadian Customs clearance formalities and documentation. We strive to provide you with our best level of service with pride.
If required, we can facilitate any of the following:
• Minimum or full packing services on site by our team of
experienced and professionally trained packers
• Supply you with recycled packing materials if you want to do your
own packing
• Crating for your artworks, glass table top, etc.
• Hanging wardrobe boxes for your delicate dress and clothing
• Mattress bags & mirror cartons
• Label or mark all boxes and packages
• Inventory list for your easy sorting and unpacking
• Transit protection coverage
• Direct loading to long distance cross-border trucking with
immediate departure
• Transfer to our warehouse and loading according to next available
departure schedule